Artist house Geiger - the Bax
Following the first 'artists' colony Frauenchiemsee', various groups of painters have formed around Lake Chiemsee since the middle of the 19th century. Attracted by the unique Bavarian pre-Alpine landscape and inspired by the rural customs, many artists, mostly from Munich, settle down to work and live in the places near the shore.
In 1930, Willi Geiger acquires a dilapidated farmhouse in Übersee am Chiemsee that is more than four hundred years old, the so-called 'Bax' in the Baumgarten/Neuwies district. Shortly thereafter, in collaboration with his son Rupprecht, he begins to rebuild the ruin. The architecture student adds typical southern architectural elements to the interior, influenced by a stay in Tuscany. In the Bax Willi Geiger spends mainly the time of the Nazi regime in 'inner emigration'. During this time, the Bax, described as a 'humanity oasis', becomes a place for the free exchange of ideas.
After the Second World War, used as a vacation home by the family, the Bax is later listed as a historical monument.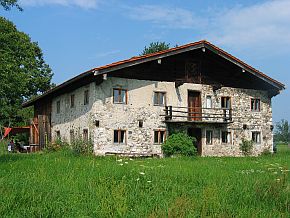 In the eighties, the architect Monika Geiger, daughter-in-law of Willi Geiger, carries out reconstruction and renovation measures in the western part. For the first exhibition Willi Geiger in the Bax in the summer of 2004, the threshing floor is remodeled. Further exhibitions followed in the summers of 2006, 2009, 2013 and 2016. In the unchanged residential house, one can still sense the atmosphere of those times when Willi Geiger sat around the table with his artist colleagues and friends.
Text: Julia Geiger